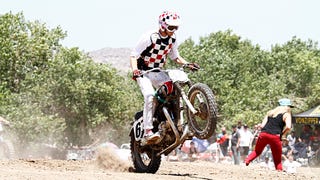 Down in a small valley on the outskirts of Riverside, California, is Milestone Ranch MX Park, a desolate dirt-bike track surrounded by, seriously, a dump and a smattering of industrial buildings. We arrived last Saturday, June 21, 2014, for the Hell on Wheels motocross event, it was hot, it was dusty, it was pure heaven.
More like a rally and less like a race, the event was held at the amateur track on the far side of the property. We walked through the tree-covered pit area, passing a vintage Bultaco, some sweet Triumphs, a few Yamahas, and, swell looking and super rare Ossa.
For a moment, we were zapped back to a time when a Triumph with knobby tires and high-standing exhaust was the closest thing to a dirt bike, a time before there was long-travel suspension and inverted forks, this was real dirt riding. Standing there, surrounded by motorcycles made you wish you grew up in the '60s and this antique motocross race seemed like a scene ripped from On Any Sunday. Huzzah!
Held on this past Saturday—not on a Sunday—we hung out with the promoters, the Hell on Wheels Motorcycle Club and spent the day watching vintage bikes catching air and slinging dirt. Originally designed for swap-meet-built, budget bikes, it's been opened up, there's a class for everyone – from street to vintage to race bikes, there's are even classes for mini-bikes and scooters. But we found that most of the attendees were vintage riders sporting some seriously awesome vintage Triumphs or BSA – keeping it British. Our favorite was the one dude on a hard-tail bar-hopper wearing a back brace.
The event feels very relaxed as there's no serious competition between the racers, nor is it run by any major corporation checking for proper wrist bands and clearance levels. It's an old-school event, run in old-school fashion. We like.
Loose classes and competition started with heat races followed by a long break and final races in the evening. There aren't technically any elimination rounds and you're ranked according to your skill level and class. Trophies are awarded at the end of the day, but most guys and gals seemed worried about having fun and popping wheelies than winning gold.
Racing started at noon with mini-bikes and scooters… yes scooters. If you come to a race just to see crashes than scooters are for you. A short heat race ended with multiple drops and some damaged egos.
Women's Moto Exhibit
One of the coolest features of the Hell on Wheels events is the Women's Moto Exhibit, a woman-only class filled with a variety of bikes from vintage Yamahas to the new, electric Zero. RideApart contributor Suanna Schick hit the track in her fully electric Zero FX bike. "I love it. I don't have to stop for gas, just go home and fill it up over night," said Suanna about riding the Zero. Read more of her stuff here.
BA Moto
The club making the most noise was vintage British motorcycle group known as BA Moto. A small shop from Long Beach, CA, six of their members were competing including rider Nate Hudson who went out in his first race due to a rubbed taillight wire shorting out. "I had a solid run going," said Nate with shrugged shoulders and a grin. His 1969 Triumph 500 was rolled off of a container ship returning home from Japan Thursday night at midnight. BA Moto club attended the "Hell on Wheels Takes Japan" race and just barley had the bikes ready for this race.
Continue Reading: Hell on Wheels – Vintage Motocross>>